Andrew Thibeault
1987 – 2005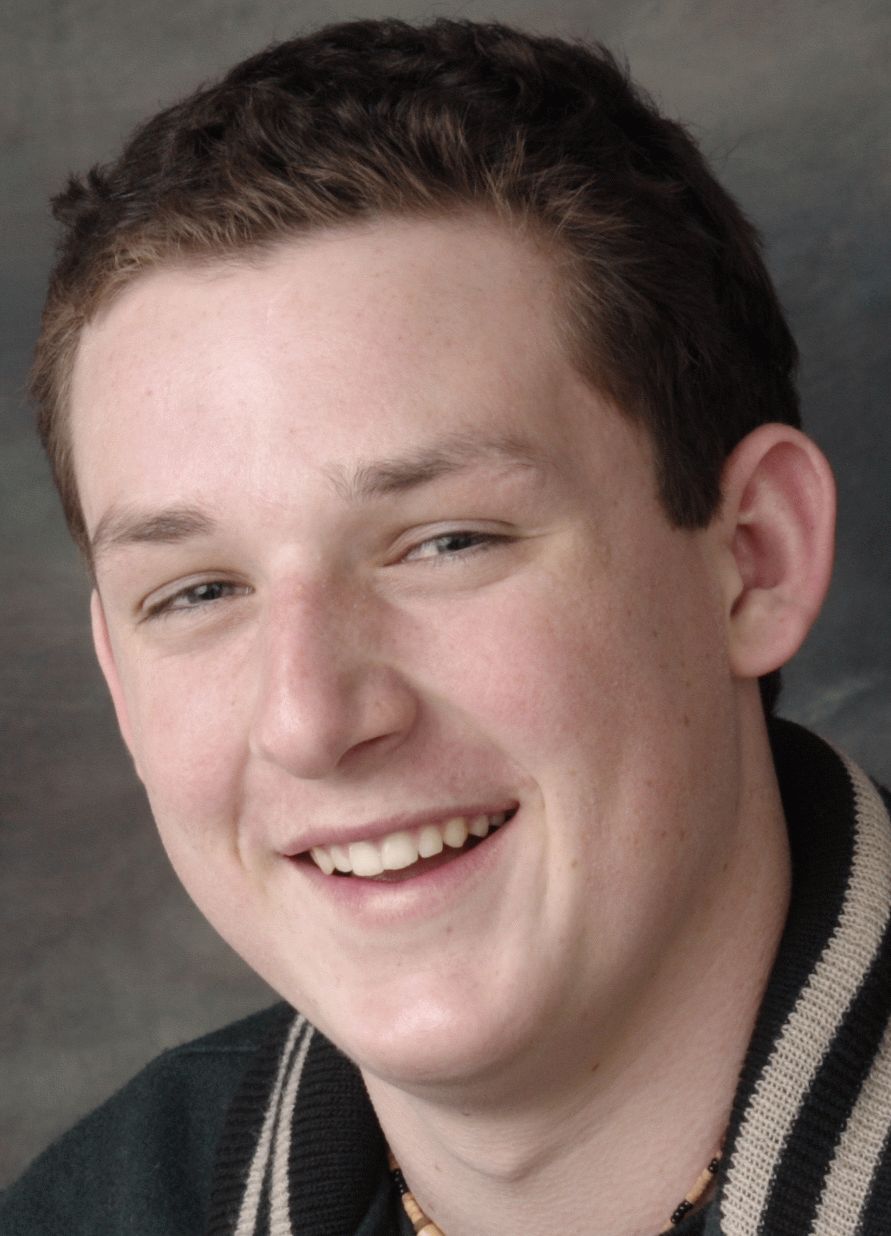 The Chronology of Andrew's Bone Cancer Treatment
2002 – June-ish: Andrew lets us know for the first time about the pain in his right hip. He begins stretching more, both before and after soccer practices, but the pain never really subsides. When kids are in sports, there's always some new tweak or bruise every week, so he gets encouragement to stretch and rest it whenever possible.
2002 – August: The pain in his hip is now persistent. We think it might be more serious than we thought. We visit the family pediatrician, who orders imaging. He is concerned, but the radiologist does not identify anything medically remarkable Andrew is encouraged to continue stretching and resting.
2002 – December: He slows down on the soccer field, and takes some ribbing from teammates. Later this month, he tells us that his hip and leg hurt too much to walk, and that he's just not able to keep up at soccer practice due to the pain. Doctor appointments are made and we hope the holiday rest will help.
2002 – January: Additional imaging discovers a mass engulfing Andrew's right pelvis, and a needle biopsy is scheduled. The preliminary results suggest either Ewing's Sarcoma or Chondroblastic Osteosarcoma. Chemotherapy will be administered at Children's Hospital in San Diego, and surgery will be performed at Scripps Hospital in Torrey Pines.
.
initial chemo and surgery
2003 – February: Chemo begins, and so do all the side effects. Andrew experiences all the physical side effects, in addition to the emotional challenges of having cancer (we are told that he is having a strong physiological reaction to the chemotherapy agents, for some reason.)
2003 – June 4: Surgical removal of the tumor with clear margins. Andrew codes for 90 minutes.Nurses and techs work incessantly to revive him. Everyone in the waiting room calls family and friends for support. Folks around the world are in prayer.  Just before they decide to stop administering support, Andrew begins breathing again. Mark Estes, one of the two cardiac techs who did CPR for 90 minutes, is a first-hand witness to the two-part miracle: Andrew came back to life and he had no brain damage.  He loses 310 units of blood during this surgery and two days following.
He spends a week in intensive care, and about a month in the hospital recovering. During this time, he gains some feeling in his toes, and tissue begins filling in the huge hole where his pelvis used to be. He is encouraged because they did not amputate his leg; however, his leg is free-floating, and he looks forward to rehab and the possibility of regaining some use of the leg. Dr. Vaughan reassures him that his leg is securely attached, and that he could eventually stand on the leg.
2003 – September: About a month before Andrew is scheduled to begin the post-surgical chemotherapy, he is still significantly below his ideal weight range. He is emaciated and pale, and we all fear that he is too weak for the upcoming chemo. We discover TPN, a form of liquid nutrition that is fed a person intravenously, and the doctors begin administering it. He begins to bulk up, and goes into the chemo a bit stronger.
2004 – April: By this time he's gone through almost 30 chemotherapy treatments, with either individual, or combined, applications of high-dose methotrexate, cisplatinum, ifosfamide, etoposide, and doxyrubicin.
2004 – April 28: The chemotherapy protocol concludes. CT scans show 3 nodules in Andrew's lungs. During removal of these nodules, they find 8 more. An additional procedure is scheduled to check for more nodules.
2004 – May 5: Another thoracotomy yields over 10 nodules. The cancer has metastasized. Doctors indicate that there's nothing more that can be done, and we begin to explore experimental options.
2004 – 2nd Half of the Year: Andrew is now treated with chemo agents that are used to primarily treat other forms of cancer, but may have success in addressing the protein pathways that are actually responsible for the unique cancer that Andrew is fighting.
2004-2005: We visit UCLA, MD Anderson in Texas, and Dana-Farber for ideas that may work. All of these are respected Sarcoma centers, and have experts who focus on the specific kind of cancer that Andrew needs to target. Norman Jaffe at MD Anderson is the doctor who treated Ted Kennedy, Jr., when he was fighting osteosarcoma, and Karen Albritton at Dana-Farber has sarcoma experience with both adult and pediatric populations. In narrowing down possible avenues of attack, Dr. Albritton indicates that the likely focus of treatment that might help Andrew hasn't even been researched yet.
In addition to the awesome individual caring by Andrew's oncologist Dr. Jenny Kim, and the other physicians at Children's Hospital in San Diego, we get feedback and suggestions from Dr. Lasky at UCLA, Dr. Carola Arndt at the Mayo Clinic in Minnesota, Dr. Judith Sato at the City of Hope in LA, and Drs. Ross Wilkins and Lorrie Odom in Denver, among others who generously give their time.
2005: Scans reveal that the cancer has re-occurred in the pelvic area, and metastasized to spots on his spine, and in his liver.
2005 – February: Andrew begins receiving palliative care through Home Hospice- the huge advantage is that the hospice folks are experts in pain management.
2005 – Mid-March: By now we have seemingly exhausted all possible treatment options, including alternative treatments such as a frequency generator, a blood growth agent and radiation therapy.
2005 – Late March: Andrew calls us to his bedside and tells us that "I'm not going to do any more treatments. I'm giving my life to God." Then he closes his eyes, and lies back to rest again, still and resolute. We sit silently, trying to understand.
His breathing is labored and he has at least two tumors in his lungs that are the size of baseballs. The tumors on his spine have numbed his entire torso, so he has a colostomy bag and a catheter. The sacral tumor can be seen in the hole in his back; it is uncomfortable to even lie in bed. The Wound Vac continues to suck fluids out of the original surgical wound from the hemipelvectomy. His belly is swollen with fluid.
2005 – Early April: Ryan asks "How do you feel?" After a moment Andrew answers "I'm confident."
We don't understand his bravery in being ready to go somewhere none of us have been.
2005 – April 12: 1:52pm: Andrew was born on a sunny day, and leaves us on a sunny day. The breeze gently blows in from the ocean. He lived fully, always spoke the inconvenient truth, and demonstrated courage. When Andrew came to the end, he embraced a perfect, permanent, home.
2005 – April 24: People in the community participate in a "Celebration of Life" for Andrew, hosted by La Costa Canyon High School, attended by over 2,000 who knew Andrew.
2006 – Marilyn Revere organizes boy scouts of Troop 776 in Encinitas to place a plaque at Carpentier Park in Cardiff, in memory of Andrew.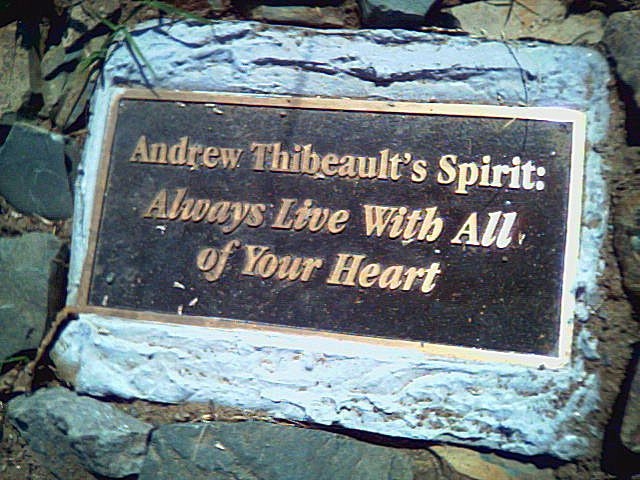 The plaque will soon by placed permanently
on the La Costa Canyon High School campus!
(Near the Media Center)